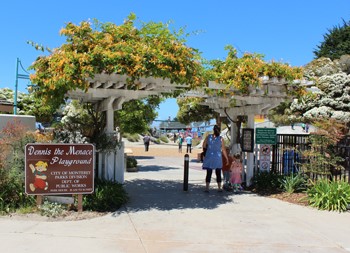 Dennis the Menace Playground is Monterey's most popular and famous playground. Some of the site's significant features include slides for small and big kids, a maze, tunnels, a fun 30-foot rope bridge, and a rock-climbing wall. When you enter, you can also view the park's famous steam engine, which has been located there since 1956. The park hopes to one day allow children to roam around the engine again as past generations remember the thrill of climbing and exploring every nook and cranny. The park has a snack bar if you forgot to bring beverages or a quick bite to eat. 
Dennis the Menace Playground is part of the El Estero Park Complex which is a 45-acre city-wide multi-use recreation area. There are several picnic locations throughout the park and places to park. El Estero's skate park is off Pearl Street. 777 Pearl Street, Monterey. Open daily from 10 a.m. to dusk. Closed on non-holiday Tuesdays, Sept. – May.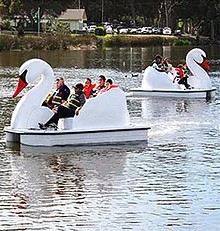 El Estero Boating, a family-owned and operated business, offers paddle boat (and Swan Boat!) rentals.
The rental office is located at 798 Del Monte Avenue. Hours of operation are seasonal, but generally Monday through Friday 10 a.m. to 5 p.m., Saturday, Sunday, and holidays 10 a.m. to 6 p.m. (weather permitting). Call 831-375-1484